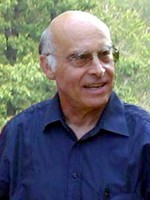 Why should an old man blog? Firstly because of curiosity! All my life I have played at the edge of technology; although lately the pace has slowed down a bit. But why should only the young have all the fun?
Secondly, I still have something to say. With retirement, structural outlets for my knowledge, experience and opinion have largely evaporated. But I am not dead yet. The blog should allow me to plug into the public discourse, albeit through a straw.
Having established the 'why', we can proceed to the 'what'. I like to talk about the things that interest me. In decreasing order of priority, these are genealogy, particularly Jewish genealogy, computers, woodworking, healthcare systems – particularly the Ontario variety and cooking. Since I am not an expert woodworker, I just do it, but won't talk about it. This leaves the other four topics to blog about.
Finally, why choose an old cemetery as theme graphic? Yes, I know, that's my prospect. But I have chosen it mainly to signal my interest in Jewish genealogy. It is the old Jewish cemetery of Hürben in Bavarian Swabia, where my maternal grandmother was born and raised.